I originally got involved in acupuncture because of my own illness. Between the ages of 20 and 22 I had mono twice and was struggling to get my health back, but without much success. When I moved to California, a friend encourage me to try acupuncture and I began my treatment at the student clinic at Five Branches Institute in Santa Cruz. I went once a week for over a year and took raw herbs which I boiled and drank, as well as patent medicines. Soon after starting treatment with these eastern practices, I began to feel more energetic and I was no longer getting sick all the time. Through acupuncture, herbs, and dietary changes, all aspects of my health began to improve.
I was so impressed with my progress that I started reading books about Chinese medicine and herbs. I began my journey with The Web That Has No Weaver by Ted Kaptchuk and a book on herbal patent medicines by Margaret Naeser. Acupuncture wasn't very popular when I began, but I learned a great deal during the time of my own illness. I remember feeling so inspired by these ancient practices that I thought, "I'm going to help other people with this!"
At the end of my treatment I moved to South Carolina for the summer to be with my sister. It was at this time that I took some pre-med classes in order to be able to apply to acupuncture schools. Along with the physics and psychology classes I'd had while earning a BA in Art History and Spanish at Boston College, I now added chemistry, anatomy, and physiology.
I looked into several acupuncture schools but settled on Five Branches Institute in Santa Cruz. Five Branches Institute was a great place to study and I was able to start observing patients from the very first semester. Our course of study was very hands-on: we would observe a patient, discuss the case, deliberate the diagnosis, and decide on the course of treatment including acupuncture and herbs, which we would prepare in the pharmacy. One of my favorite aspects of school was this clinical work; being able to interact directly with the patients, and discussing their case or filling prescriptions, is still a favorite aspect of my practice. During this time I was employed as a substitute teacher. Even now I enjoy working with kids of all ages at my clinic.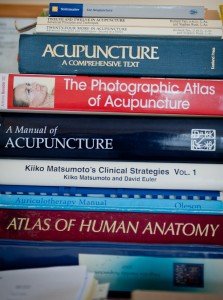 I graduated from the Masters Degree program at Five Branches Institute in 1997. I have a Masters in Traditional Chinese Medicine and am nationally certified as a Diplomate of Oriental Medicine which includes Acupuncture and Chinese Herbal Medicine.
In addition to my formal schooling, I apprenticed with Holly Guzman in Santa Cruz and Ken Pang in San Francisco and later Palo Alto. I really learned how to run my business smoothly from working with Holly; she also taught me the true subtleties of acupuncture and moxabustion (where an herb, moxa, is burned on or above the skin at acupuncture points). Holly's work was influenced by Kiiko Matsumoto and the benefits of abdominal palpation. Studying the work of Kiiko Matsumoto was inspirational; as part of a study group, Avi Magidoff furthered my instruction about Kiiko's style and how to specifically release the hara (abdomen) as well as other parts of the body.
I studied more about Japanese acupuncture with a group of blind acupuncture masters from the Toyohari Association in Japan, and through this experience was able to hone my pulse-taking and palpation skills. I completed the Toyohari training program in Washington D.C. in 2001.
I studied with Sharon Wiezenbaum in Amherst, MA. I completed her two-year Graduate Mentorship Program in advanced herbal studies program as well as her Integrative Mandala Acupuncture Program which I use as part of my treatments. Most recently, I am earning a certification in German Auricular Medicine, ear acupuncture, through the Vital Principal Institute. The ear is fascinating in that is has the greatest number of acupuncture points concentrated in one area and is a microsystem for the entire body including its anatomy and nervous system, and a way to access the brain directly.
After graduating in 1997, I practiced in Santa Cruz for a year and then moved back to the state where I was born: Maine. I began my practice in Bath and finally settled in Freeport. After 15 years I'm still passionate about my work; I can't think of anything I'd rather be doing.
I have learned to focus on educating my patients. After seeing me, I feel my patients understand their bodies better and have new tools they can use themselves. For many people their illness has become their life; it's a a hindrance that they are not living fully or to their highest potential. When I'm working with people I'm looking at the big picture but also at how all the little pieces come together for each individual. I try to find out what has led them to this imbalance in their body, what is the background of their illness. I try to empower my patients to help themselves. I have learned that lifestyle equals medicine; therefore, the proper lifestyle equals the proper medicine. This, in turn, will create the right feeling in a person's body, mind, and spirit.
It's back to the basics really, in so many ways: What are you eating? How do you sleep? How are your bowel movements? Are you happy? Do you listen to your body? Are you living optimally? I like to get people fired up about caring for themselves. In my practice, I notice that as a person gets better, they start to get more in touch with their body, their passions, and their life. Making changes in their life becomes less effortful because the body is more in balance. I want to help them heal and to prevent illness in the future so I'm always trying to teach my patients to listen to their bodies and to honor its needs.